Preparation
Whisk the egg with cream, season with salt and pepper.
Drain the Bambini Mini Mozzarella from GOLDSTEIG , toss them in the flour and egg and then coat them twice with grated coconut, sesame, breadcrumbs and nettle seeds.
Bake for a very short time in a pot with oil at 160°C.
For the pepper dip
Cut the peppers in half, remove the seeds and brush them with oil.
Braise in the oven at 200°C for about 20 minutes.
Take them out of the oven and cover them with a damp cloth until the skin comes loose.
Puree with grated GOLDSTEIG Almdammer, salt, pepper, garlic and olive oil.
Crème fraîche dip
Mix the crème fraîche, mustard, honey, salt and pepper and season with rosemary.
Rocket and cheese dip
Puree the rocket with oil, salt, pepper and the grated GOLDSTEIG Almdammer into a pesto.
Tomato dip
Warm up the Pomodoro tomatoes and season them with salt and pepper. Refine them with various herbs, if you want.
TIP: Store the baked Bambini Mini Mozzarella from GOLDSTEIG in the oven at 60°C until you serve them.
Ingredients
For 4 people:
For the coating:
Roasted grated coconut
Roasted sesame
Breadcrumbs
Nettle seeds
3 pots of GOLDSTEIG Bambini Mozzarella
3 eggs
20 ml cream
Salt, pepper
Flour
Sunflower oil (for baking)
Pepper dip:
1 red pepper
1 yellow pepper
A bit of oil (to coat them)
100 ml olive oil, salt, pepper, garlic
Crème fraîche dip:
1 pot of crème fraîche
1 tbsp mustard
1 tbsp honey
Salt, pepper, chopped rosemary
Rocket and cheese dip:
1/2 bunch of rocket
Salt, pepper, oil
Tomato dip:
200 g Pomodoro tomatoes
Salt, pepper, various herbs, any you like
Recipe download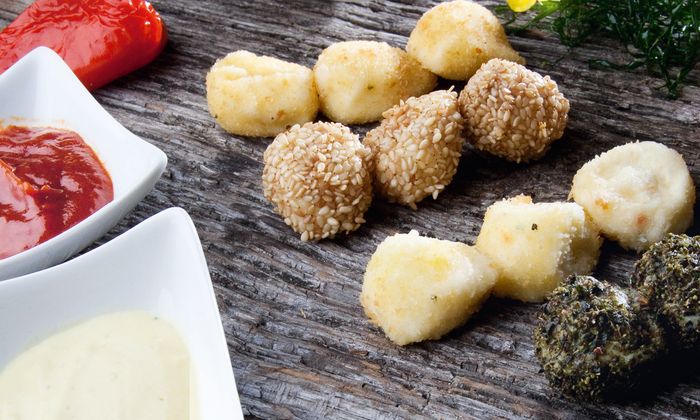 Up