Preparation
Remove the bones from the trout fillets and flatten them slightly under foil. Season with salt, pepper and chopped lavender.
Cut the GOLDSTEIG Almdammer into 8 roughly 1 cm by 5 cm rectangular strips.
Put the GOLDSTEIG Almdammer pieces on top of the trout fillets and roll them up.
Coat twice with flour, egg and breadcrumbs.
Fry in oil at 160°C and then finish cooking them in the oven at 120°C for about 12 minutes.
For the froth
Lightly simmer the cream, stock, GOLDSTEIG Butter and aniseed together, season with salt and blend until frothy.
Tomato compote
Peel the onions and chop them up small.
Sweat them in GOLDSTEIG Butter , add the Pomodoro tomatoes to them and season with salt, sugar, lemon zest and rosemary.
TIP: Cordon bleu can also be made using other types of fish (char, salmon, carp, etc.).
Ingredients
For 4 people:
Cordon bleu trout:
8 skinned trout fillets
Salt
Pepper
10 lavender flowers (ground)
Some flour
2 eggs
Breadcrumbs
Some oil for frying
For the froth:
Tomato compote:
1/2 onion
200 g Pomodoro tomatoes
Salt
Sugar
Lemon zest (organic lemon)
Chopped rosemary
Recipe download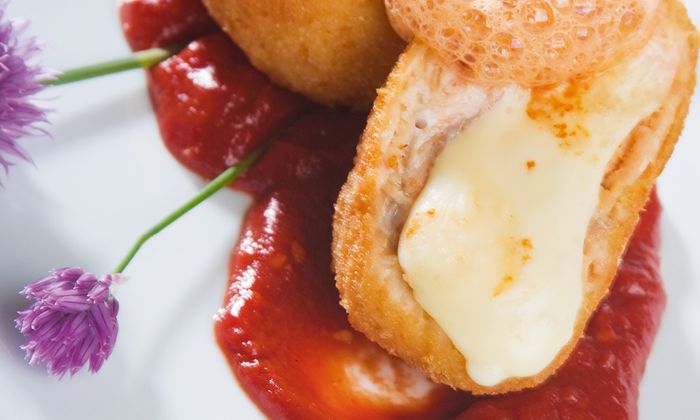 Up