Preparation
Cut up the bread rolls and soak them in lukewarm milk.
Add the soaked bread rolls to the minced beef, mix with the other ingredients and season.
Weave the bacon on cling film to match the size of the bacon slices and so the minced meat fits on the bacon braid.
Place the minced meat flat on the bacon and put all the GOLDSTEIG Emmental in the middle. Shape the bacon bomb into a roll and seal it well.
Remove the cling film and cook it on a charcoal barbecue with indirect heat at 200°C for about 60 minutes.
Coat the bomb with dark beer every now and then.
Ingredients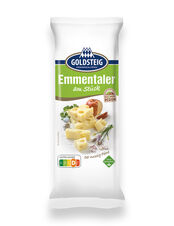 For 6 people:
800 g minced beef (fat)
300 g sliced bacon
4 egg yolks
1 bread roll
100 ml milk
2 tbsp mustard
Sweet paprika
Bread spice
Curry
Pepper
Rock salt
Garlic puree
A few breadcrumbs
Dark beer to coat the bacon bomb
Recipe download
Up