Preparation
Separate the eggs and beat the GOLDSTEIG Ricotta, with the egg yolk, add the breadcrumbs and season with the spices, garlic, sesame oil and lemon zest.
Whisk the egg whites until stiff and fold into the mixture, then add to greased little moulds.
Bake at 200°C for 8 to 10 minutes.
Fennel vegetables
Remove the cores from the fennel and tomatoes and cut them up small.
Fry in oil and flambé with whisky.
Deglaze with the vegetable stock and season with salt and pepper.
TIP: Serve with deep-fried rocket.
Ingredients
For 4 people:
Ricotta soufflé:
2 pots GOLDSTEIG Ricotta,
4 egg yolks
50 g fried breadcrumbs
A pinch of curcuma
Salt
Pepper
Garlic
Roasted sesame oil
Lemon zest (organic lemon)
4 egg whites
Butter
Fennel vegetables:
2 fennel bulbs
2 tomatoes
30 ml oil
4 cl whisky
40 ml vegetable stock
Salt
Pepper
Recipe download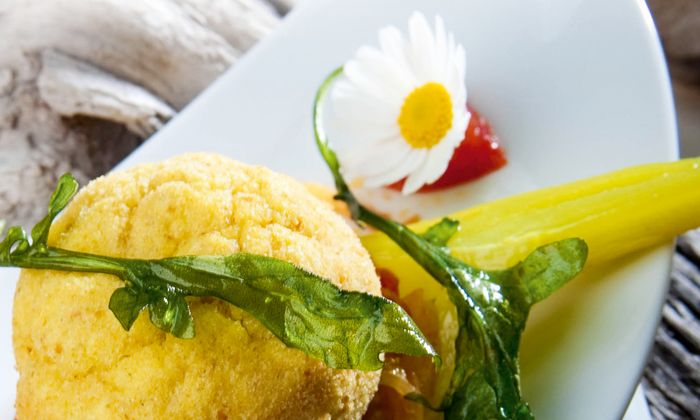 Up