Preparation
Peel the asparagus and fry them in a pan with butter until they're still firm to the bite. Then season with salt, pepper, lemon juice and sugar.
Cook the bacon on a grill in the oven at 160°C until crispy.
Remove the stones from the peaches, cut them into slices and heat them up in a pan with apple juice and honey.
Place the asparagus on the plate and cover them with GOLDSTEIG Wafer-Thin Almdammer Cheese Slices . Arrange the crispy bacon and peach too.
Ingredients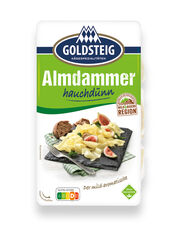 For 4 people:
20 asparagus spears
8 slices of bacon
2 peaches
40 g butter
50 ml apple juice
50 g honey
Salt, pepper, lemon juice and 1 pinch of sugar
Recipe download
Up