Preparation
Wash and dry the chicken thoroughly. Rub a bit of salt into the chicken skin to make it more crispy.
Cut the GOLDSTEIG Almdammer up into cubes and heat up the milk at the same time.
Mix the bread rolls well in a bowl with the milk, GOLDSTEIG Almdammer cubes and rosemary and season with salt and pepper. Stuff the mixture into the chicken and seal with a skewer.
Place the chicken on a baking sheet and roast in the preheated oven (fan oven) at 160°C for approx. 40 minutes.
Remove the roast chicken from the oven and cut it in half. Take the stuffing with GOLDSTEIG Almdammer out of the chicken and cut it up into slices. Carve the chicken into 4 portions and arrange on a plate with the bread and cheese filling. Bring the meat juices on the baking tray to the boil and pour the gravy over the dish.
Ingredients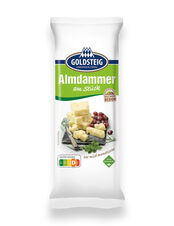 For 4 people:
1,600 g farm chicken
1 pack of cut of bread rolls
4 eggs
100 ml milk
5 g chopped rosemary
Salt and pepper
Recipe download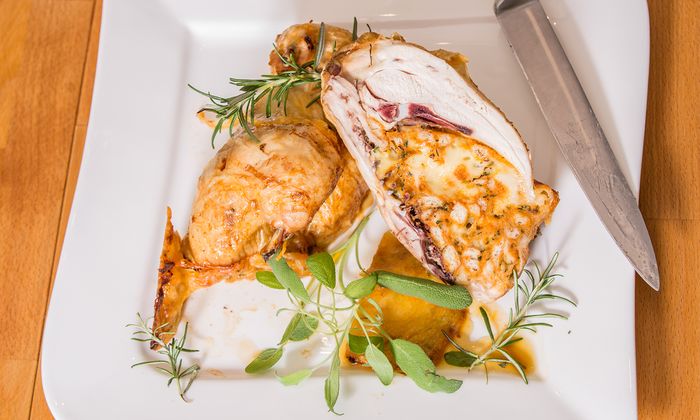 Up