Preparation
Wash and peel the potatoes and cut them into slices with the root vegetables.
Also cut the GOLDSTEIG Limburger into thin slices and mix everything together. Add the butter in small flakes.
Season the Limburger vegetables with salt, bread spice, vegetable stock and the finely chopped sage.
Wash the chicken leg, dry it and season it with salt.
Place the vegetables and the chicken in an oven-proof dish and cook at 160°C for about 35 minutes.
Arrange the vegetables on a plate and bake them in the oven with GOLDSTEIG Limburger on top.
Arrange the chicken legs.
TIP: You can also spice up the vegetables with Tandoori Masala curry.
Ingredients
For 4 people:
4 chicken legs
4 potatoes
480 g root vegetables of your choice (carrots, cellery, parsley roots)
30 g GOLDSTEIG Butter
50 ml vegetable stock
Bread spice (coriander, fennel, aniseed and caraway)
Sage
Rock salt
Recipe download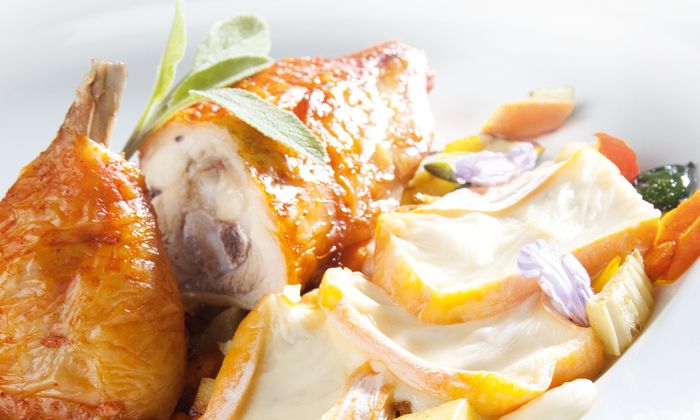 Up