Preparation
Boil the eggs in water for about 5 minutes and then rinse with cold water.
Peel the eggs and place them in the glasses. Cut the tomatoes into quarters and remove the cores.
Cut up the chives.
Season and prepare the Bambini Mini Mozzarella from GOLDSTEIG with hot pepper and mix with the cherry tomatoes and chives.
Pour the mixture over the egg and enjoy.
Tip: Eggs in a glass also go really well with other types of cheeses from GOLDSTEIGgoes really well with this.
Ingredients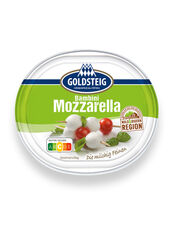 Recipe download
Up