Preparation
Fry the cut up bread rolls.
Boil up the cream.
Stir the eggs with the sugar until smooth and slowly mix with the cream. Add
GOLDSTEIG Ricotta,, GOLDSTEIG Mascarpone, and the rest of the ingredients to the bread rolls and mix with the cream and egg mixture, then flavour with the gingerbread spices and vanilla.
Place the mixture on a baking tray lined with baking paper and bake at 180°C for about 30 minutes.
Cut the baked Ofenschlupfer into pieces of the same size and sprinkle with icing sugar.
Serving suggestion
Mix the egg yolk with the sugar and vanilla powder.
Bring the milk to the boil and stir small quantities into the egg mixture.
Thicken the mixture in the bowl in a bain marie at 70°C.
Stir in the chopped chocolate, flavour with lemon zest and Amaretto.
Ingredients
<strong/>
For 4 people:
200 g GOLDSTEIG Ricotta,
200 g GOLDSTEIG Mascarpone,
120 g cut up bread rolls
40 g roasted nuts mixture
40 g chopped dark chocolate
30 g dried and chopped apricots and plums
60 ml cream
4 eggs
40 g sugar
Ground vanilla
Gingerbread spices
Vanilla sauce:
4 egg yolks
50 g sugar
240 ml milk
1.5 g vanilla powder
50 g white chocolate
Lemon zest
A shot of Amaretto
Recipe download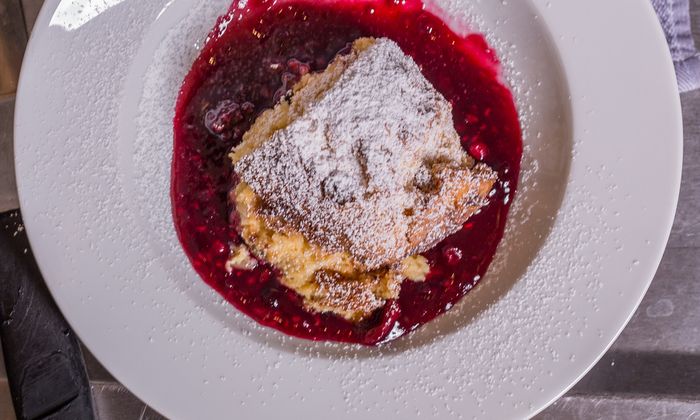 Up